Powerfully simple. Protect Windows workstations or servers and Macs with #1 ranked security technologies and simple and effective remote management.
THE PEACE OF MIND OF HAVING #1 RANKED ANTIMALWARE TECHNOLOGIES
As a small business, you don't have a lot of time or resources to invest in IT security. That's why it's best to let #1 ranked antimalware technologies guard you while you focus on business.
Bitdefender employs technologies which consistently rank first in major independent tests from AV-Test, AV-Comparatives and Virus Bulletin.
Unlike other solutions, Bitdefender does not trade performance for protection and does not slow down your users' computers.
SIMPLE BUT POWERFUL CONSOLE FOR SMALL COMPANIES WITH UP TO 250 USERS
Gain time and boost security with the ability to remotely deploy, control and monitor protection for all computers. From the web browser, even non-technical users can administer security with ease using the Control Center console.
The solution was built to accommodate the needs of even large enterprises. This means that if you are an IT admin, you will fnd all the detailed settings you need to fne-tune protection for your network.
FLEXIBILITY TO CHOOSE BETWEEN HOSTED AND ON-PREMISE MANAGEMENT
To reduce costs, it is recommended to let Bitdefender host and maintain the management components of the solution. No servers or manual updates are necessary and the console is available immediately after signup.
If you prefer to host the management components in your own servers, you can choose the on-premise version. With an unique deployment model, the solution is ready for use in minutes, not hours or days as with other products.
WHY BITDEFENDER SMALL OFFICE SECURITY?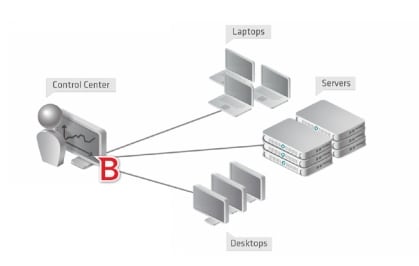 The main factors that reduce security overhead are superior protection and performance and a simple console that fits user needs. This is also where Bitdefender stands out from the competition. Bellow, you will find a list of capabilities in Bitdefender Small Office Security that are often not found in competing products.
Centralized real-time control and monitoring for onsite and remote users
Technologies consistently ranked first for protection and performance
Web filtering, safety rankings and ability to restrict user access to certain applications or websites included in the basic offer and not as an upgrade charged extra.
Auto-detect and scan removable external devices.
Endpoint Security Relay NEW for companies with low bandwidth. Not all computers need to connect to the Internet, the Endpoint Relay can be used to distribute updates internally.
Centralized quarantine
Remote deployment to entire network using Windows Network Discovery and uninstall of competitive solutions.
State-of-the-art web console with highly configurable roles and privileges NEW, nested groups and granular policies.